Event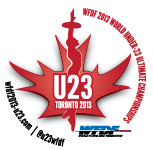 Tournament Details
The WFDF 2013 Under 23 World Ultimate Championships, Toronto, ON July 21-28, 2013. The event will be taking place on the campus of York University which is located in the north end of the city.
The event will feature up to 42 teams in 3 divisions of play; Open, Women's, & Mixed.
Our Mission is to host an elite event that unites young adult Ultimate players from around the world and provides them with an unforgettable Ultimate experience
that is safe, welcoming, and worry-free. We wish to set the standard for World Championship Ultimate events by organizing an event that is completely athletefocused,
detail oriented, and that fully utilizes our modern technologies.
Your national association will determine how many divisions it wishes to send a team for in 2013. It is our goal to welcome over 40 teams total with a minimum of 10 teams per division!
Parking at York University
U23 Championships
York University Campus
Campus Map
Accommodations
Fields
Event Partners
What is Ultimate?
Social