Players and Team Info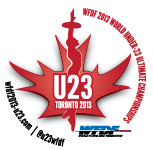 Our Mission is to host an elite event that unites young adult Ultimate players from around the world and provides them with an unforgettable Ultimate experience that is safe, welcoming, and worry-free. We wish to set the standard for World Championship Ultimate events by organizing an event that is completely athlete focused, detail oriented, and that fully utilizes our modern technologies. Your national association will determine how many divisions it wishes to send a team for in 2013. It is our goal to welcome over 40 teams total with a minimum of 10 teams per division!
In this section you'll find all the info you need to attend the 2013 WU23UC. We are working very hard on finalizing all of the details to ensure that you have the time of your life both on the field and off. As these details become available you can be assured that it will get posted in this section.
A few things you should have in mind in order to keep you out of eventual issues:
Respect the deadlines;
Correctly and completely fill in the registration form(s);
Avoid last minute accommodation changes.
New Rules Accreditation Requirements for WFDF-Sanctioned Ultimate Events Announced
How To Register
Phase 2 - Individual Registration Now OPEN
Team Representatives
Registration Fee Schedule
Rules and Eligibility