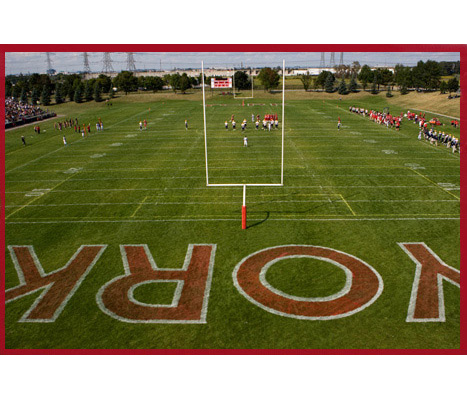 York University, founded in 1959, is Canada's third largest university. It's main campus at Keele and Steeles is home to over 50,000 students and the majority of its academic programs. York is known globally for its work with the Canadian Space Program and its Business and Law schools have been placed continuously among the top schools in Canada.

York is also home to York Lions Athletics and an innovative Sport Administration Program. It boasts a number of premier sport facilities including its football stadium, outdoor sports fields, high performance strength and conditioning centre, the Toronto Track and Field Centre, the Rexall Centre (home of the Rogers Cup ATP Series Tennis Tournament), ad Canlan Ice Sports Centre.
The university has recently formed an Ultimate team that will compete in the Canadian Inter-University series.
Accommodation and fields have been secured for the championships at York University. Most of the official tournament accommodations options will be located within a 5-10 minute walk of the playing fields. Almost all playing fields are locatd in the same area, allowing teams an amazing opportunity to view multiple games while not playing, or affording them the chance to return to their rooms or enjoy the campus between games. There are 2 - 3 satellite fields which are 500m south of the main fields and 250m south of the athlete's accommodations.
The features most relevant to WFDF 2013 Under 23 World Championships include the multiple grass areas beside the accommodation blocks and student centre, the proximity of accommodation, restaurant and playing sites and the onsite cafes and shops.
Among the facilities available on campus are:
A mini-market
Pharmacy
ATM/Bank machine
Cafes and restaurants
For those that want it, the full address of the university is:
4700 Keele Street
Toronto, Ontario
M3J 1P3
Canada