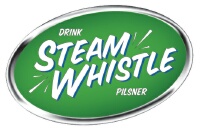 On behalf of the Tournament Organizing Committee, we are thrilled to welcome Steam Whistle Pilsner as the Official Beer Partner for the U23 Championships!
Steam Whistle is known as Canada's premium pilsner and is brewed independently in the heart of Toronto, at the historic Roundhouse on John Street which is just south of the CN Tower. The Brewery hosts and supports events, green initiatives, local artists, and of course the sport of Ultimate! Steam Whistle has been a great supporter of the Toronto Ultimate Club and its members since 2008. More than anything, Steam Whistle beer is REALLY good. Check them out:
www.steamwhistle.ca
@SteamWhistle
At the U23 Championships our friends from Steam Whistle will be on site each day, hosting the beer garden at Tournament Central. Crisp and tasty Steam Whistle Pilsner will be available in the beer garden only, with prices to be posted at the tournament. Canada's premier pilsner aligned with the World's premier U23 event – what a great partnership!
You must be 19 years of age or older in order to consume alcoholic beverages in the Province of Ontario and all beer must be consumed within the designated beer garden area. Steam Whistle and the Tournament Organizing Committee reserve the right to refuse service – please drink responsibly.